in the news
SBP SPONSORS THE 1st ANNUAL USGBC-NCR GOLF EVENT
Monday, October 8, 2012
SBP was proud to sponsor and participate in the USGBC National Capital Regions 1st Annual Golf tournament out at 1757 Golf Club in Dulles, Virginia.  Mike and Dan took to the links in support of the local Chapter of the U.S. Green Building Council.  It was great to get outside on a terrific day and enjoy the environment we work to protect and do so with our friends and colleagues in the green building community.
Here Mike is kicking off the event this year: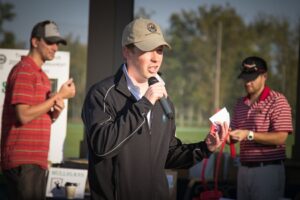 Dan and Mike getting ready to tee off: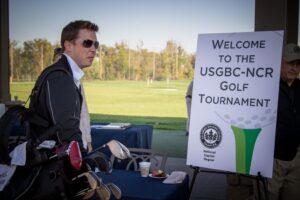 The USGBC – National Capital Region Chapter provides locally-based leadership, advocacy, education and resources to create a vibrant and environmentally healthy Metropolitan Washington region. With individual members from every sector of the building industry, they engage, educate and encourage our community to live within and advance a sustainable, ecologically restorative and economically prosperous built environment.
When:  Friday, October 5, 2012, 8:00 AM – 3:00 PM
Where:  1757 Golf Club
---
2012 AWARDS OF EXCELLENCE ANNOUNCED!
Sunday, July 22, 2012
The USGBC National Capital Region Chapter held it's premier green building networking event of the year at the Netherlands Embassy. The Chapter recognized several regional projects.  Mike helped announce and recognize this year's Awards of Excellence winners.  Congratulations to this year's award winners and thanks to all those who helped make this event a success; sponsors, volunteers, attendees, Chapter staff and host The Netherlands Embassy.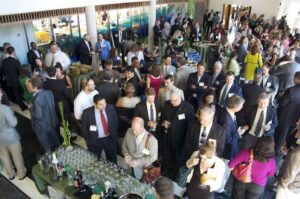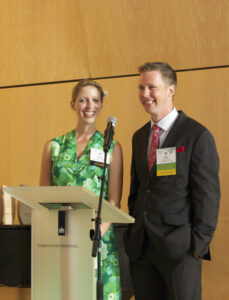 When:  Thursday, July 19, 2012, 6:00 PM – 10:00 PM
Where:  Netherlands Embassy
---
SBP is an Approved PEPCO Trade Ally
Thursday, June 21, 2012
SBP is an approved Trade Ally for PEPCO's New Construction utility incentive program.  If you are interested in learning more, have a property in PEPCO's Maryland territory and are interested in improving the energy efficiency of your facility please give us a call.  PEPCO is offering a multitude of rebates for both prescriptive and custom energy efficiency measures.  Some of the unique offerings for the New Construction program for Comprehensive Design Support Incentives include:
up to $1,000 for holding an energy efficiency charette
$0.10/SF (up to 50,000 sf), $0.03/sf (over 50,000 sf) energy modeling incentive
whole building measures compared to ASHRAE 90.1-2010 Appendix G Baseline
up to $8,000 for implementing enhanced commissioning services
SBP is an approved PEPCO Trade Ally
---
Adaptive Reuse Showpiece!
Friday, June 8, 2012
We were proud to partner with Seawall Development Company on this great showcase of true sustainable design and adaptive reuse and urban revitalization.  From the preservation and rehabilitation of an 1866 facility to  the inclusion of higher performance systems, lasting impact, community pride and private partnerships.
I was fortunate to attend the Grand Opening of Union Mill and listen to speakers, including the Mayor of Baltimore, Governor of Maryland, DOE, financing partners and representatives of the community.  And to hear the impact this facility has and will have for the years to come was a reminder of why we do what we do.  Using a beautiful, energy efficient facility to house non-for profit organizations and give substantially reduced rental rates to draw good inner city teachers blends performance, durability and cultural significance.
Our participation in this project was centered around bieng the first project in the city to comply with the Baltimore City Green Building Standards (BCGBS) and to help Seawall secure a $164,258 utility rebate for their efforts to go above and beyond typical design performance.
Rebate & Systems Case Study...
More Info:  http://www.sustainbldgs.com/casestudy/48
---
LEED v4 Put on Hold
Monday, June 4, 2012
The USGBC has announced that they are postponing the release of LEED 2012.  They are pushing the proposed ballot date out one year to June 1, 2013.  Also given the postponement to 2013 they are renaming the program LEED v4.  LEED v2009 will stay open for usage for the next three years.
The delay in release is driven by community feedback regarding pushing the release of the program too quickly.  The USGBC is looking to continue their stakeholder engagement in a meaningful dialogue around improvements to the next program and as such is opening up a fifth public comment period starting October 2nd, 2012.  I believe this was a very tough decision for the USGBC but likely a good one.  If you are interested in helping to shape the next evolution of the LEED program please participate in this next round of public comments.
---
NEW WEBSITE!
Thursday, May 31, 2012
We are excited to announce the launch of our new website.  This has been a long time coming and we really appreciate the effort of our partners StreetSense in helping to turn great ideas into a reality.  Thanks to Eric, Jessica and the whole StreetSense team!
Feel free to look around and as always we look forward to hearing from you!
---
SBP SPONSORS THE 43rd ANNUAL SUMMER GAMES
Wednesday, May 16, 2012
We are proud to be a silver partner of the Special Olympics District of Columbia 43rd Annual Summer Games taking place at The Catholic University of America from May 22nd thru the 24th.  The Annual Summer Games are no longer receiving funding from some previous sources so we were glad to be able to step in and help support this great event!
When:  Tuesday, May 22, 2012, 10:45 AM – 1:30 PM
Where:  The Catholic University of America
More Info:  www.specialolympicsdc.org
---
SBP PARTICIPATES IN DCS GREEN WEEK
Tuesday, April 24, 2012
Mike participated in DCS Design's 2012 GreenWeek. Mike participated in a program geared towards Raising the Sustainable Bar for Residential Projects: Earthcraft Multifamily, LEED 2012, and Green Building Codes. Mike offered his perspective on the pending requirements of then new LEED 2012 program. Mike offered a brief synopsis of the program changes relative to the current draft status of the program as well as some of the critical issues facing multifamily LEED projects going forward. The program also looked into the ASHRAE 90.1-2010, 62.1-2010 and only begins to scratch the surface of Standard 189.1 and green building codes coming down the pipeline.
When:  Tuesday, April 24, 2012, 5:30 PM – 7:30 AM
Where:  1676 International Drive, McLean, VA
More Info:  http://green.dcsdesign.com/?
---
INTEGRATED HIGH PERFORMANCE BUILDING DESIGN
Monday, April 2, 2012
Can you name the key energy opportunities often missed and the most important issues to consider when setting energy performance and thermal comfort goals for your next LEED project? Have you lacked the highly technical analyses needed to support your energy efficiency objectives and make informed decisions? This session delves into how integrated energy consulting can help achieve realistic performance targets through collaborative workflow, highly technical analyses and open communication. We will look at how, when employed correctly, comprehensive whole building energy modeling can be an effective tool for high performance building design.
The Montgomery County branch of USGBC's National Capital Region Chapter invites you to join us for lunch and a fascinating insider look at building energy modeling as more projects strive to optimize building performance, maximize LEED EAc1 points and ultimately achieve our project goals.
Effective energy analysis; when to start, stages, collaborative workflow
Requirements for maximizin the benefit of energy consulting services
Going beyond LEED EAc1 point accounting; meaningful impact
Understanding the ASHRAE 90.1 Baseline; getting behind the standard
Project examples and success stories
LEED 2012 energy modeling requirements; "what's coming…"
Where:  100 Lakeforest Blvd, Suite 600, Gaithersburg, MD
More Info:  www.usgbcncr.org
---
Ventilation in Multifamily Buildings
Friday, March 30, 2012
Recent Green Building Certification Institute (GBCI) interpretations and reviews have indicated a shift in philosophy around how we meet ventilation requirements in multifamily LEED projects.  Those of us who have been navigating these waters are looking for that "silver bullet" uniform and repeatable solution that doesn't adversely impact our project budgets.  As we move forward with new building codes, ASHRAE 62.1 requirements, LEED Credit interpretations (which by the way may not always mesh with each other) it is important to make sure we focus on these design issues early on in a project so that change orders, project schedules and sticker shock around this issue is avoided.
Prior

Full natural ventilation for multifamily units via infiltration, perimeter operable windows and/or pressure relationship with corridor

Recent

ASHRAE 62.1-2004 & 2007 allows only the area within 25-feet of the perimeter window to be naturally ventilated; assuming the window opening represents 4% of the floor area… What about the last few feet?

Curren

t

The GBCI has approved effective "Engineered Natural Ventilation" solutions for Multifamily projects.  In response, designers are coming up with and working through several different creative solutions that will meet these new requirements

Future

ASHRAE 62.1-2010 includes new section defining "Engineered Natural Ventilation" requirements of which includes new calculation methodology for naturally ventilated spaces
---
USGBC-NCR MEMBERSHIP NIGHT
Monday, January 30, 2012
Mike addresses USGBC – NCR members at the annual membership night located at the Knoll Showroom in 1050 K Street NW. He also recognized the outgoing board members recognizing them for their passion, meaningful effort and volunteer service in helping the Chapter move forward into this our 10th year Anniversary!  Great turnout for the event as all the committees looked to recruit active volunteers and continue to increase the Chapter's exposure in the Greater Metropolitan Region.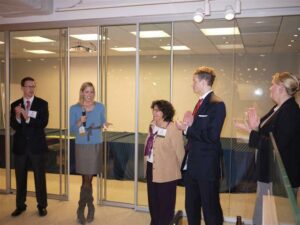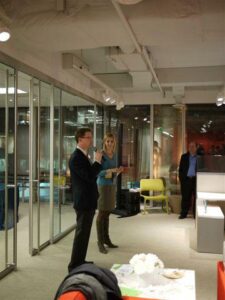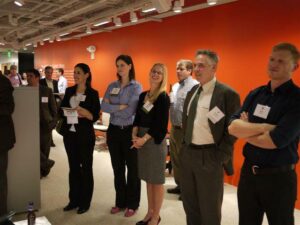 And here is Dan talking with friend and collegue Avneet of SDC at the event. Dan is participating in the Chapter's first annual Golf Tournament that will be held on October 5th, 2012 at the 1757 Golf Club located in Dulles, Virginia.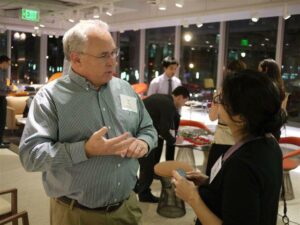 When:  Tuesday, January 24, 2012, 6:00 PM – 8:00 PM
Where:  1050 K Street NW, Washington DC
---
AMERICAN CANCER SOCIETY GOLF CLASSIC
Friday, January 27, 2012
Dan is volunteering with the American Cancer Society's 16th Annual National Capital Golf Classic.  This event has been a core contributor to the fight against prostate Cancer in the Greater Washington Metropolitan Region for the past sixteen years raising over $2.8 million. Shown below is the Capital Golf Classic Team.  Dan participated this year and looks forward to being a part of the Steering Committee going forward.  To learn more about how you can participate in the event please check out the National Capital Golf Classic by clicking on the link below.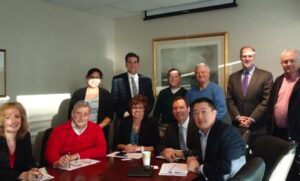 Pictured above from left to right: DBI Architects' Kathryn Ciliberti, SAIC's Douglas Koelemay, JM Jones & Associates' Patricia Ann Maccini, Transwestern's Caulley Deringer, Fenway Financial Group's Song Park, the American Cancer Society's Sarah Cox, Reznick Group's Jim Martinko, Palm Facility Services' Herb Palm, McGuire Woods' Lee Fifer Jr., Boston Properties' Peter Johnston, and Sustainable Building Partners' Dan Wilcox
When:  Monday, June 18, 2012, 8:00 AM – 3:00 PM
Where:  Trump National Golf Club
More Info:  http://main.acsevents.org/site/TR/Golf/GolfFY10SouthAtlantic?pg=entry&fr_id=26382
---
DC METRO REGION LEADS THE NATION IN GREEN BUILDING
Thursday, January 19, 2012
The U.S. Green Building Council (USGBC) released its 2011 list of top 10 states for LEED Certified space per capita with the DC metropolitan region leading the way and Virginia and Maryland close behind! Read the full press release on USGBC's website.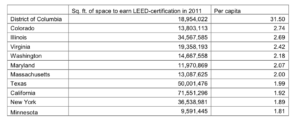 ---