in the news
A Dynamic Plaque?
Tuesday, August 13, 2013
At the 2012 Greenbuild conference, president of LEED, Scot Horst, announced a new LEED Dynamic Plaque. There are five performance indicators on the display shown with different colors: waste, energy, water, transportation, and human experience. The plaque breaks down the building's score for each indicator at that exact time; providing a visual of the fluctuations in the scores at each moment they occur. Each color will move as the scores increase and decrease.  The Dynamic Plaque shows overall performance in comparison with local and global buildings and the information is expressed in an intuitive fashion everyone can follow real time.  Conversations you might hear between tenants and visitors …
"Looks like we upped our score this month!"
"We should probably look at how we can help reduce our office waste"
"How did our new commuting incentive program impact our building's score"
"Did we remember to turn-off our lights last night?"
"Looks like we are in the top 10% of air quality in our region!"
I feel this is an opportunity to more actively engage building occupants in a dialogue around sustainability and give building tenants more sense of ownership of their space and individual responsibility.  Additionally, building occupants can see how daily decisions can affect the whole.  This is all part of the transformation to a more transparent experience in how we design, operate, maintain and utilize our built environment.
According to USGBC Exploring a New Kind of LEED Plaque by Tristan Roberts in December 2012, "all aspects of the concept are in development" (Roberts).
Using apps on the computer the plaque can survey occupants on concepts such as commuting patterns. In addition, it can notify personnel in specific sectors when that area needs attention. Facilites.net states "Horst said perhaps by the end of 2013, the first prototypes will go into buildings," which he hoped would coincide with LEED v4 (4 Tips).  The plaque will interact with USGBC and the people in the building, to provide constant communication and data for the plaque.
---
References:"4 Tips on Sustainability." Facilitiesnet. TradePress, n.d. Web. 29 Aug. 2013.Roberts, Tristan. "USGBC Exploring A New Kind of LEED Plaque." LEEDuser. BuildingGreen, Inc., Web. 29 Aug. 2013.
---
LEED v4 Approved
Tuesday, July 2, 2013
The people have spoken… or at least those individuals whom participated in the six public comment periods and ultimately the ballot for the formal adoption of LEED v4.  LEED v4 is now Approved!  Likely consumption to begin later this year.  Voting by the numbers:
| | |
| --- | --- |
| 86% | AFFIRMATIVE |
| 10% | NEGATIVE |
| 4% | ABSTAINED |
*ballots cast from over 1,200 USGBC member companies that participated with quorum achieved at 59%
This is a big accomplishment for the USGBC as the original title of the latest version of the program was dubbed "LEED 2012"; which might have been a bit confusing at this point.  As such the formal name was switched to LEED v4.  As the USGBC and LEED program looks to continue to raise the sustainability bar they did not want to rush the release of this program until proper vetting from the greater building community could take place and likewise yield a better result.
With that said, don't go rushing to register all your projects under the familiar LEED v2009 programs just yet as the USGBC has formally announced that program participants will be able to continue using LEED 2009 until the sunset date of June 1, 2015; or till further notice…
At SBP, we look forward to continuing our support of the building community and welcome the opportunity to help our clients navigate this new program and accelerate the learning curve; finding cost-effective sustainable solutions that will address new challenges, philosophies,  and general credit requirements.
more here >> LEED v4
---
SBP PARTNERS WITH USGBC NATIONAL CAPITAL REGION
Friday, May 31, 2013
SBP is a proud annual partner of the USGBC National Capital Region Chapter for 2013 – 2104.  At SBP, we support the mission and vision of the Chapter to make our Region a global model for a truly sustainable community and to support the Chapter in meeting this ambitious goal!
http://www.usgbcncr.org/
---
THE 2013 ANNUAL SUMMER GAMES
Friday, May 3, 2013
We are proud to be a silver partner and supporter of the Special Olympics District of Columbia again this year.  The 2013 Annual Summer Games are taking place at The Catholic University of America from May 21st thru the 23rd.
When:  Tuesday, May 21, 2013, 9:00 AM – 3:00 PM
Where:  The Catholic University of America, Washington DC
More Info:  http://www.specialolympicsdc.org/
---
METRO REGION LEADS THE NATION IN GREEN BUILDING
Wednesday, January 23, 2013
The U.S. Green Building Council (USGBC) released its 2012 list of top 10 states for LEED Certified space per capita with the DC metropolitan region leading the way.  The District lead the way at #1 again followed by Virginia in the #2 spot and Maryland holding steady from last year at the #6 spot.  The ongoing commitment and leadership of the public, private, and community-based organizations to support and encourage green building practices in our region has made this achievement possible.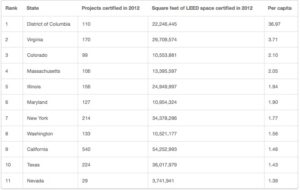 http://new.usgbc.org/articles/usgbc-releases-2012-list-top-10-states-leed
---